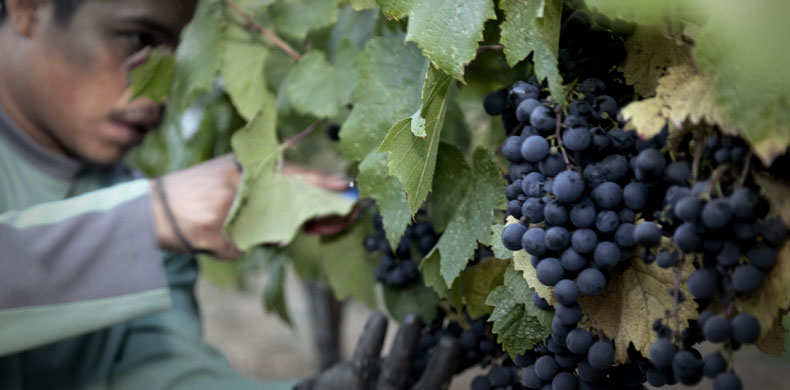 Meticulous Farming, Sustainable Practices
Look around Stagecoach Vineyard, and you'll be struck by a world in natural balance. A thriving habitat for coyotes, bobcats, mountain lions, reptiles, raptors, and even bears combined with gentle farming practices that respect the land and its native creatures.
"Environmental,

social and economic implications are taken into account for all of our practices"
List of Vineyard Clones
Varietal
Clone
Cabernet Franc
17
Cabernet Franc
214
Cabernet Franc
312
Cabernet Franc
327
Cabernet Franc
332
Cabernet Franc
628
Cabernet Franc
Sanders
Cabernet Sauvignon
2
Cabernet Sauvignon
4
Cabernet Sauvignon
7
Cabernet Sauvignon
8
Cabernet Sauvignon
15
Cabernet Sauvignon
169
Cabernet Sauvignon
191
Cabernet Sauvignon
337
Cabernet Sauvignon
341
Cabernet Sauvignon
412
Cabernet Sauvignon
685
Cabernet Sauvignon
5197
Cabernet Sauvignon
29 (Niebaum-Coppola)
Cabernet Sauvignon
30 (See) + rootstock
Cabernet Sauvignon
31 (Mondavi – To Kalon) + root stocks
Cabernet Sauvignon
685/31
Cabernet Sauvignon
See
Cabernet Sauvignon
Weimer
Chardonnay
15
Chardonnay
17
Chardonnay
Wente
Grenache
Alban
Malbec
8
Malbec
9
Malbec
19
Malbec
595
Malbec
596
Malbec
598
Marsanne
575
Marsanne
Tablas Creek
Merlot
3
Merlot
6
Merlot
181
Merlot
314
Merlot
343
Merlot
347
Petite Sirah
4
Petit Verdot
2
Petit Verdot
400
Petit Verdot
1058
Roussanne
468
Sangiovese
PEPI
Sauvignon Blanc
1
Sauvignon Blanc
6
Sauvignon Blanc
18
Sauvignon Blanc
28
Sauvignon Blanc
30
Syrah
7
Syrah
174
Syrah
383
Syrah
470
Syrah
525
Syrah
877
Syrah
Alban
Syrah
TC-A (99)
Tempranillo
Pasquera
Tempranillo
RD
Viognier
1
Viognier
642
Viognier
Pride
Zinfandel
Aldo/Crane
All of our practices are sustainable, taking into account the environmental, social, and economic implications of each decision we make. A few examples of our sustainable approach: using permanent cover crops to prevent erosion; planting site-specific cover crops to address nutrient and vigor needs; building insectaries, owl boxes, and bluebird boxes to host pest predators; conducting beneficial insect releases; practicing conservative irrigation; and using local restaurant food waste for compost.
Under Jan Krupp's direction, Stagecoach is a vineyard that thrives on innovation. Jan is always interested in new ideas, Viticulturist Gabrielle Shaffer has the moxie and drive to put a plan in action, and Vineyard Manager Esteban Llamas is by nature a creative problem solver. From investing in advanced weather-station technology, new varieties, and clonal trials to improved trellising, irrigation, and pruning styles, the Stagecoach team is always looking for a way to take viticulture to the next level.