Our Vineyards
Drive six miles up Soda Canyon and you ascend to over 1,800 feet above the valley floor. From the craggy terrain of Pritchard Hill you can gaze onto the expanse of Oakville's world-famous wine estates far below. This might be called the last frontier of the Napa Valley – a wilder, more rugged country, fragrant with wild herbs and dotted with rare native plants.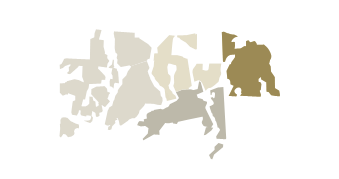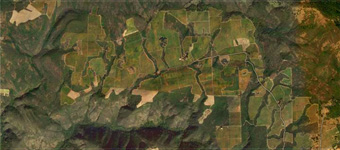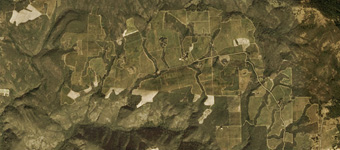 View Regional Map
List of Vineyard Clones
Varietal
Clone
Cabernet Franc
17
Cabernet Franc
214
Cabernet Franc
312
Cabernet Franc
327
Cabernet Franc
332
Cabernet Franc
628
Cabernet Franc
Sanders
Cabernet Sauvignon
2
Cabernet Sauvignon
4
Cabernet Sauvignon
7
Cabernet Sauvignon
8
Cabernet Sauvignon
15
Cabernet Sauvignon
169
Cabernet Sauvignon
191
Cabernet Sauvignon
337
Cabernet Sauvignon
341
Cabernet Sauvignon
412
Cabernet Sauvignon
685
Cabernet Sauvignon
5197
Cabernet Sauvignon
29 (Niebaum-Coppola)
Cabernet Sauvignon
30 (See) + rootstock
Cabernet Sauvignon
31 (Mondavi – To Kalon) + root stocks
Cabernet Sauvignon
685/31
Cabernet Sauvignon
See
Cabernet Sauvignon
Weimer
Chardonnay
15
Chardonnay
17
Chardonnay
Wente
Grenache
Alban
Malbec
8
Malbec
9
Malbec
19
Malbec
595
Malbec
596
Malbec
598
Marsanne
575
Marsanne
Tablas Creek
Merlot
3
Merlot
6
Merlot
181
Merlot
314
Merlot
343
Merlot
347
Petite Sirah
4
Petit Verdot
2
Petit Verdot
400
Petit Verdot
1058
Roussanne
468
Sangiovese
PEPI
Sauvignon Blanc
1
Sauvignon Blanc
6
Sauvignon Blanc
18
Sauvignon Blanc
28
Sauvignon Blanc
30
Syrah
7
Syrah
174
Syrah
383
Syrah
470
Syrah
525
Syrah
877
Syrah
Alban
Syrah
TC-A (99)
Tempranillo
Pasquera
Tempranillo
RD
Viognier
1
Viognier
642
Viognier
Pride
Zinfandel
Aldo/Crane
It is here that the Krupp brothers, Jan and Bart, have excavated over a billion pounds of basalt, andesite, and tufa boulders to create a remarkable property – Stagecoach Vineyard. Over the past two decades, 600 acres of vines have been planted in 175 uniquely individual blocks among four designated regions. The land and the vision are so dramatic that each day the Krupp team is prepared for some kind of new discovery.
Reclaimed from tenacious growth of chaparral and sagebrush. Excavated of a billion pounds of volcanic rock. And endowed with a plentiful water source found against the advice of seasoned geologists. Stagecoach Vineyard is a marvel of nature and human ingenuity.