Our Vineyard
Drive eight miles up Soda Canyon and you ascend to over 1,800 feet above the valley floor. From the craggy terrain of Pritchard Hill, you can gaze onto the expanse of Oakville's world-famous wine estates far below. This might be called the last frontier of the Napa Valley – a wilder, more rugged country, fragrant with wild herbs and dotted with rare native plants.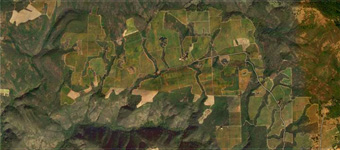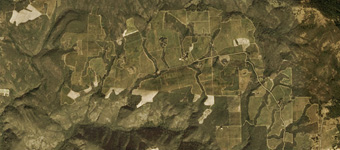 View Regional Map
Maximize screen for best view
List of Vineyard Clones
Varietal
Clone
Cabernet Franc
17
Cabernet Franc
214
Cabernet Franc
312
Cabernet Franc
327
Cabernet Franc
332
Cabernet Franc
628
Cabernet Franc
Sanders
Cabernet Sauvignon
2
Cabernet Sauvignon
4
Cabernet Sauvignon
7
Cabernet Sauvignon
8
Cabernet Sauvignon
15
Cabernet Sauvignon
169
Cabernet Sauvignon
191
Cabernet Sauvignon
337
Cabernet Sauvignon
341
Cabernet Sauvignon
412
Cabernet Sauvignon
685
Cabernet Sauvignon
5197
Cabernet Sauvignon
29 (Niebaum-Coppola)
Cabernet Sauvignon
30 (See) + rootstock
Cabernet Sauvignon
31 (Mondavi – To Kalon) + root stocks
Cabernet Sauvignon
685/31
Cabernet Sauvignon
See
Cabernet Sauvignon
Weimer
Chardonnay
15
Chardonnay
17
Chardonnay
Wente
Grenache
Alban
Malbec
8
Malbec
9
Malbec
19
Malbec
595
Malbec
596
Malbec
598
Marsanne
575
Marsanne
Tablas Creek
Merlot
3
Merlot
6
Merlot
181
Merlot
314
Merlot
343
Merlot
347
Petite Sirah
4
Petit Verdot
2
Petit Verdot
400
Petit Verdot
1058
Roussanne
468
Sangiovese
PEPI
Sauvignon Blanc
1
Sauvignon Blanc
6
Sauvignon Blanc
18
Sauvignon Blanc
28
Sauvignon Blanc
30
Syrah
7
Syrah
174
Syrah
383
Syrah
470
Syrah
525
Syrah
877
Syrah
Alban
Syrah
TC-A (99)
Tempranillo
Pasquera
Tempranillo
RD
Viognier
1
Viognier
642
Viognier
Pride
Zinfandel
Aldo/Crane
It is here that our founders excavated over a billion pounds of basalt, andesite, and tufa boulders to create a remarkable property – Stagecoach Vineyard. Over the past two decades, over 600 acres of vines have been planted in 204 unique blocks.
We divide Stagecoach into four sections because of their distinct terroir: Pritchard Hill, Heart of the Vineyard, Bordeaux Region, and Atlas Peak Region.
Pritchard Hill
Napa County Soil Series
Mostly Hambright complex with small amount of Guenoc-Rock outcrop complex
Soil Characteristics
Soils in this region are characterized by red, volcanic soils made up of a boulder-strewn clay loam with a few solid rock outcroppings that have been dynamited to create a more uniform soil base.
Topography
Due to this section's southwestern slopes and location, this is a warm area (great for Cabernet Sauvignon), but with more moderate mid-day temperatures (due to the marine influence) compared with the eastern part of the vineyard.
Climate
What makes this spot completely unique is its position at the very mouth of Foss Valley, overlooking Napa Valley, with a southerly view of the San Francisco Bay. There is usually a steady breeze coming up from the valley, providing more marine influence than the rest of the vineyard – the fog usually arrives here first.
Resulting Fruit
All of these factors contribute to the unique terroir of Pritchard Hill, positioning these blocks for ultimate ripening weather. Ripe, bold, and extremely concentrated describes the fruit from this region, which is destined for ultra-premium wines.
Heart of the Vineyard
Napa County Soil Series
Hambright with some Guenoc
Soil Characteristics
The soils found in these blocks are characterized by volcanic red/yellow clay loam mixed with variably sized boulders and fractured, decomposing rock.
Topography
This warm area with gentle south-to-steep-south-facing exposures is one of the best and most typical Cabernet Sauvignon areas of Stagecoach Vineyard. The slight south-facing slope, rocky but uniform soils, and the location nestled between two ridges all contribute to the ideal setting of this region.
Climate
Although the ridges protect the area from some of the valley breezes, the area is close enough to the mouth of the Napa Valley and Rector Canyon to give it a good marine influence. Most of these blocks are naturally buffered from extreme conditions such as winds and very high or low temperatures. One exception to this is the top of the T blocks (T1-3). These have a very different light brown soil and are perched on a ridge that is almost always above the fog and is completely exposed to both wind and sun.
Resulting Fruit
Overall, the Heart of Stagecoach offers a protected site allowing the blocks to grow stronger canopies and develop tannin structures that are perfectly married with rich fruit. Not surprisingly, many stand-alone wines as well as core pieces of blends derive from this area.
Bordeaux Region
Napa County Soil Series
Guenoc-Rock outcrop complex
Soil Characteristics
This area, which predominantly covers the southeast part of the vineyard, is characterized by deep red/yellow/pink clay loam with less rock than other areas on the vineyard. It was originally planted in 1870 by German settlers due to its somewhat less rocky soil.
Topography
The crew refers to many of these blocks as "Las Olas," or "The Waves," to describe the undulating landscape. The rolling, south-facing hills give warmer exposures to Cabernet Sauvignon, Merlot, and Syrah, while Malbec and Merlot thrive on the northern facing hills.
Climate
This area's name and climate reflects its similarities to the Bordeaux region of France. Overall, the temperatures are cooler in this part of the vineyard than in the other regions. The proximity to Rector Canyon pulls in cool marine air in from Napa Valley on foggy nights and collects cool air draining out of Foss Valley on clear nights.
Resulting Fruit
These exposures and temperatures contribute to the delicate acid and sugar accumulation of these grapes, resulting in complex, elegant wines.
Atlas Peak Region
Napa County Soil Series
Hambright and Guenoc
Soil Characteristics
This region is dominated by the typical red volcanic soils of Stagecoach, but what makes the area unique is its enormous quantities of flat rock, which provide exceptional drainage to the hillside blocks.
Topography
The eastern proximity gives this section of the vineyard a different spectrum of light than the intense south-western sun.
Climate
This area has a more typically inland climate than the other two warm-climate areas of Stagecoach, mimicking the rest of the south-facing Foss Valley a bit more closely. The Atlas Peak Region has significantly less marine influence than the rest of the vineyard and has more shelter from the valley breezes, warming the region early in the morning and retaining the heat throughout the day. In fact, according to our onsite weather stations, this is the warmest growing region of Stagecoach Vineyard.
Resulting Fruit
This south-facing, warm area produces consistently high-quality fruit. Slower ripening is typical here than in the Prichard Hill Region, resulting in softer tannins and blue fruit notes.