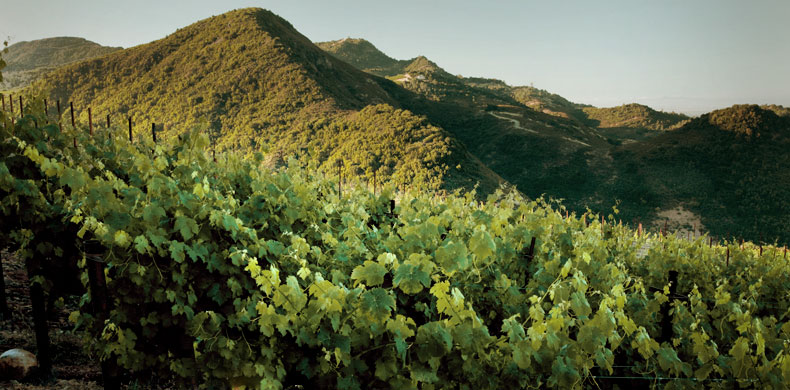 Extreme Terroir
When asked to describe the Stagecoach Vineyard, we first respond with a two-word answer: "Extreme Terroir." The word "extreme" applies not just to our steep hillsides and mountain-top geography, but also to the extreme levels of meticulous attention paid to growing the fruit and the extreme, intense flavors that result. We use "terroir" in the true French sense, invoking the special characteristics that geography gives to grapes, including soil, climate, and farming techniques.
1,200 – 1,750 feet

Elevations

16 Varietals

planted on 204 blocks
List of Vineyard Clones
Varietal
Clone
Cabernet Franc
17
Cabernet Franc
214
Cabernet Franc
312
Cabernet Franc
327
Cabernet Franc
332
Cabernet Franc
628
Cabernet Franc
Sanders
Cabernet Sauvignon
2
Cabernet Sauvignon
4
Cabernet Sauvignon
7
Cabernet Sauvignon
8
Cabernet Sauvignon
15
Cabernet Sauvignon
169
Cabernet Sauvignon
191
Cabernet Sauvignon
337
Cabernet Sauvignon
341
Cabernet Sauvignon
412
Cabernet Sauvignon
685
Cabernet Sauvignon
5197
Cabernet Sauvignon
29 (Niebaum-Coppola)
Cabernet Sauvignon
30 (See) + rootstock
Cabernet Sauvignon
31 (Mondavi – To Kalon) + root stocks
Cabernet Sauvignon
685/31
Cabernet Sauvignon
See
Cabernet Sauvignon
Weimer
Chardonnay
15
Chardonnay
17
Chardonnay
Wente
Grenache
Alban
Malbec
8
Malbec
9
Malbec
19
Malbec
595
Malbec
596
Malbec
598
Marsanne
575
Marsanne
Tablas Creek
Merlot
3
Merlot
6
Merlot
181
Merlot
314
Merlot
343
Merlot
347
Petite Sirah
4
Petit Verdot
2
Petit Verdot
400
Petit Verdot
1058
Roussanne
468
Sangiovese
PEPI
Sauvignon Blanc
1
Sauvignon Blanc
6
Sauvignon Blanc
18
Sauvignon Blanc
28
Sauvignon Blanc
30
Syrah
7
Syrah
174
Syrah
383
Syrah
470
Syrah
525
Syrah
877
Syrah
Alban
Syrah
TC-A (99)
Tempranillo
Pasquera
Tempranillo
RD
Viognier
1
Viognier
642
Viognier
Pride
Zinfandel
Aldo/Crane
Our elevations – ranging between 1,100 and 1,750 feet – make Stagecoach the largest south-facing mountain vineyard in Napa. Our mountain terrain is usually above the fog which gives us a longer ripening season, with the rockiest soils and minerality to create distinct aromas and flavors that can only be found in the unique terroir at Stagecoach Vineyard.
The vineyard covers an enormous number of soil depths, soil types, and micro-climates, with 16 different varietals planted in 204 individual blocks being purchased by 80+ different wineries. Given the quality level that is expected from each of our clients, it's really more like farming 205 small vineyards than a single large one. Stagecoach is Cabernet Sauvignon-focused, with over half of the vines planted to 22 Cabernet clones.
Just look at the grapes themselves. Stagecoach consistently produces an amazing color to its fruit – largely due to the elevation above the fog layer, which exposes the vineyard to increased sunlight throughout the year. As a result, our fruit is dominated by classic "mountainside" characteristics, with big tannins and extremely complex flavors.