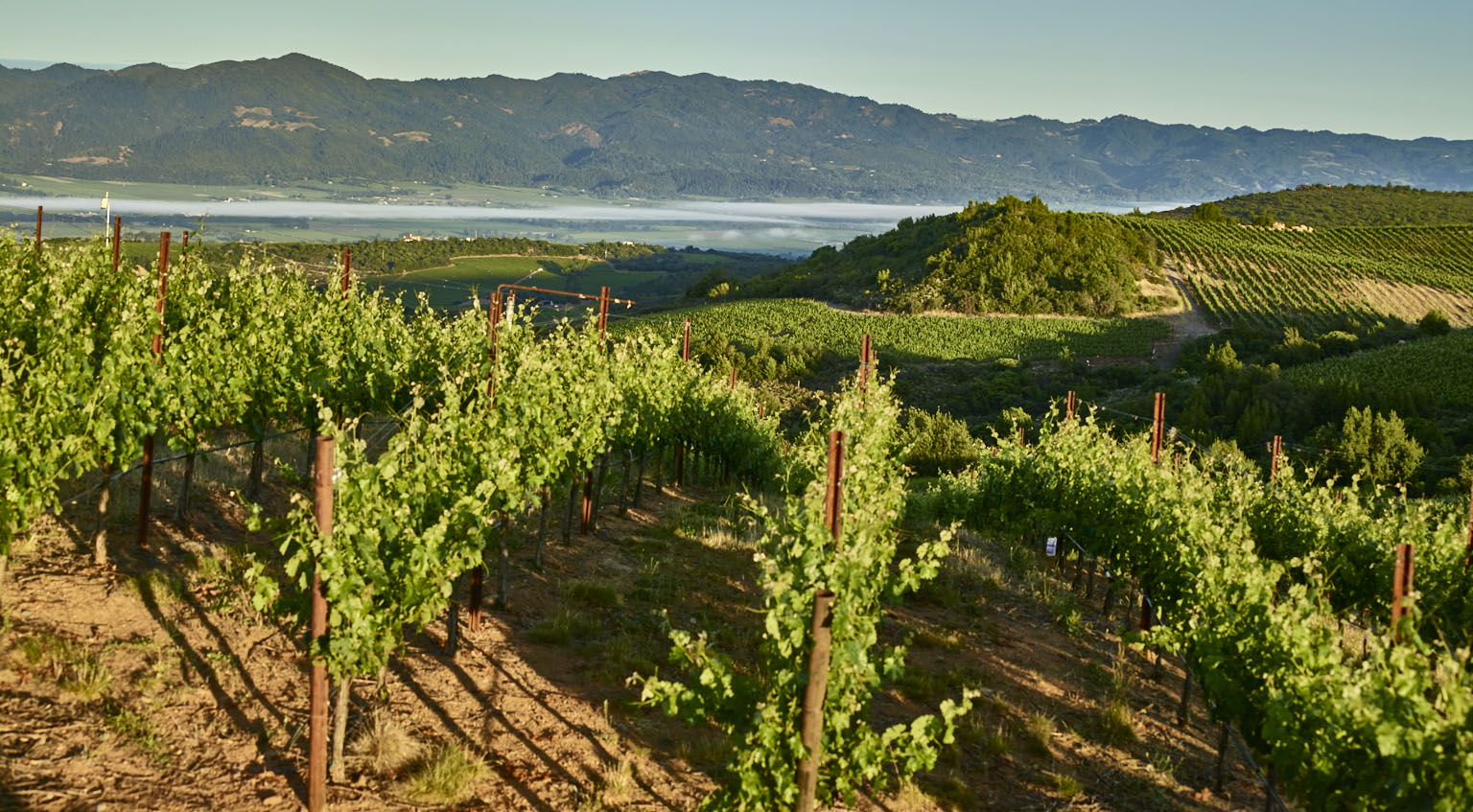 The Story of Stagecoach
This rugged terrain first made history in the 1800s, when the gentleman bandit Charles Earl Bowles, known as Black Bart, robbed the daily stagecoach that traveled over the hill from St. Helena to Monticello. Early German settlers discovered the well-drained soils and perfect growing conditions, and their grapes brought some of the highest prices in the Napa Valley. Soon a nearby luxury mineral spa was attracting visitors from San Francisco and beyond. But by the early 1900s the increased deer population devastated the vineyards and by Prohibition viticulture was abandoned on these hills.
The Story of the Water Witch
Over 80 Wineries

use our fruit in their wines

Over 30 Wineries

use the Stagecoach name on their labels

Over 25 Wineries

make vineyard designate wines with our fruit
Wineries
Alpha Omega Winery
Arkenstone
Arrow & Branch
Atlas Peak/Accolade Wines
Bennett Lane Winery
Biale Estate
Black Stallion (Delicato)
Blackbird Vineyards
Bougetz Cellars
Boyanci
Bressler Vineyards
Brookman Wines
Buoncristiani
California Cult Classics
California Wine Works
Caymus Winery
Celani Family Vineyards
Chappellet Winery
Chateau Montelena
Chateau Bu-De
City Winery
Clos Pegase
Darioush Winery
Delta Packing Company
Duckhorn
Dutcher Crossing Winery
Elizabeth Spencer
Ellman Family Vineyards
Emmitt-Scorsone
Entrepreneur Wines
Fantesca Estate
Faust
Fess Parker/Epiphany
Flora Springs
Gamling & McDuck
Hertelendy Vineyards
Hess Collection
Jackson Family Wines (Cardinale and Freemark Abbey)
JC Cellars
Jean Edwards Cellars
Kale Wines
Kobalt Wines
Krupp Brothers
Krutz Family Cellars
Ledson Winery
Levendi
Llamas Family Winery
Louis Martini Winery
Macauley Vineyards
Mark Herold Wines
Maze Wines
Merryvale Vineyards
Miner Family Winery
Orin Swift
Ovid
Pahlmeyer
Palmaz
Parador Cellars
Patland Estate
Plumpjack
Pott Wines
Pride Mountain Vineyards
Promise
Quintessa
Quill Wines
The Prisoner
Rutherford Hill
Scribe
Sequoia Grove
Seven Stones
Swanson
Tom Eddy Winery
Undervine
Venge Vineyards
Vice Versa Wines
West Edge Wines
Williamson Wines
The Wine Foundry
World's End
Y Rousseau
List of Vineyard Clones
Varietal
Clone
Cabernet Franc
17
Cabernet Franc
214
Cabernet Franc
312
Cabernet Franc
327
Cabernet Franc
332
Cabernet Franc
628
Cabernet Franc
Sanders
Cabernet Sauvignon
2
Cabernet Sauvignon
4
Cabernet Sauvignon
7
Cabernet Sauvignon
8
Cabernet Sauvignon
15
Cabernet Sauvignon
169
Cabernet Sauvignon
191
Cabernet Sauvignon
337
Cabernet Sauvignon
341
Cabernet Sauvignon
412
Cabernet Sauvignon
685
Cabernet Sauvignon
5197
Cabernet Sauvignon
29 (Niebaum-Coppola)
Cabernet Sauvignon
30 (See) + rootstock
Cabernet Sauvignon
31 (Mondavi – To Kalon) + root stocks
Cabernet Sauvignon
685/31
Cabernet Sauvignon
See
Cabernet Sauvignon
Weimer
Chardonnay
15
Chardonnay
17
Chardonnay
Wente
Grenache
Alban
Malbec
8
Malbec
9
Malbec
19
Malbec
595
Malbec
596
Malbec
598
Marsanne
575
Marsanne
Tablas Creek
Merlot
3
Merlot
6
Merlot
181
Merlot
314
Merlot
343
Merlot
347
Petite Sirah
4
Petit Verdot
2
Petit Verdot
400
Petit Verdot
1058
Roussanne
468
Sangiovese
PEPI
Sauvignon Blanc
1
Sauvignon Blanc
6
Sauvignon Blanc
18
Sauvignon Blanc
28
Sauvignon Blanc
30
Syrah
7
Syrah
174
Syrah
383
Syrah
470
Syrah
525
Syrah
877
Syrah
Alban
Syrah
TC-A (99)
Tempranillo
Pasquera
Tempranillo
RD
Viognier
1
Viognier
642
Viognier
Pride
Zinfandel
Aldo/Crane
In 1991, Dr. Jan Krupp saw an ad in the San Francisco Chronicle selling a Napa Valley property with good water and soils. His interest grew when, on his first site visit, he noticed a few old vines, perhaps 100 years old. With the help of a few good friends, he began developing the property in 1995, defying what many local experts had claimed was an impossible task. It took seven years to clear more than one billion pounds of volcanic rock.
Then there was the issue of water, which hadn't yet been found on the arid land. Jan hired a world-renowned geologist, who identified five potential locations. Drill to 300 feet, he advised, and when no water was found he recommended against purchasing the property. Instead of quitting, Jan hired a "water witch" who walked the property with her apparatus of two copper divining rods, stopping abruptly at one spot. Drill here, she said. At 400 feet, an underwater stream was found, as well as water at the five places identified by the geologist, but at the witch's recommended depth.
In 2016, the E. & J. Gallo Winery purchased Stagecoach Vineyard. Today, with over 600 acres planted to vines, the Cabernet-focused Stagecoach is the largest contiguous vineyard in the Napa Valley. The 1,300+ acres of rocky, volcanic terroir extends from the south-eastern of Pritchard Hill area overlooking Oakville and Yountville to the westernmost regions of the Atlas Peak appellation.
In addition to its stature as a premium vineyard, Stagecoach's rugged beauty is home to several indigenous flora and fauna. Among the sprawling acres of thriving vines and volcanic chaparral slopes are the gnarly remnants of an old vineyard created by the area's first settlers. And the storied Water Witch's Well lies near the vineyard entrance to Stagecoach Vineyard, evidence of the powerful union of luck and perseverance that made this place possible. The spirit of Black Bart – who intimately knew and rode this verdant backcountry – is clearly still at home.