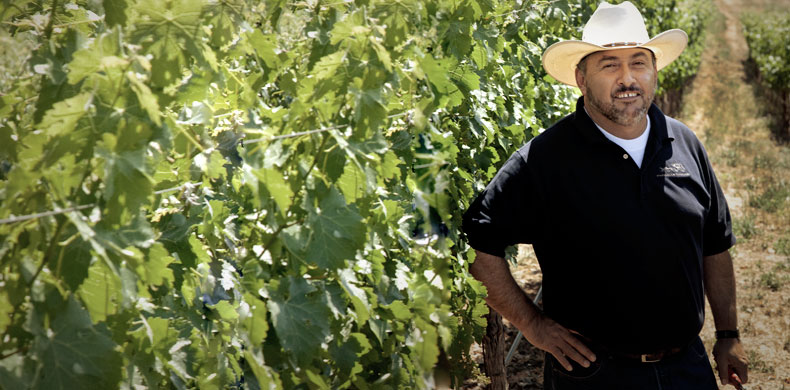 Esteban Llamas
Vineyard Manager
The Vine Whisperer
As Stagecoach's Vineyard Manager, Esteban Llamas communes daily with the property's 750,000 vines. He understands better than anyone their ever-changing needs for water, nutrition, disease control, and canopy management. His life as a vineyard worker began in 1974 and he rose through the ranks in the field and barrel room to become vineyard manager at Robert Keenan Winery and Atlas Peak before joining Stagecoach in 1996.
"Each block has its own customized techniques.

Whether it's separating the clusters by hand, cutting the wings, or removing individual leaves, we are focused on helping the fruit reach its full potential for each of our clients."
Easy-going, humble, and tirelessly hard-working, Esteban confers with winemakers, viticulturists, and foremen and oversees the entire vineyard crew to tailor the meticulous work to each block with customized techniques to accommodate each winemaker's particular needs. "The right work at the right time and place makes all the difference," he says.
Because of the site's high elevation, the weather is especially changeable. Its rocky soil presents more challenges, but results in magnificent fruit. Esteban designed the vineyard's extensive irrigation system, and keeps a shrewd eye on the varying water requirements of each block. His particular gift? "I know where to find the best soil," he says with a smile.